WSOP NJ Casino Review
Last update
July 6th, 2023
Welcome Bonus
100% up to $1000
Terms & Conditions
Name
Min Deposit
Max Deposit
Speed
Fees
MasterCard
Fees
according to your bank
PayPal
Visa
Name
Min Deposit
Max Deposit
Speed
Fees
MasterCard
Fees
according to your bank
PayPal
Visa
Pros
WSOP is a well-known and respected brand in the poker world
The New Jersey Division of Gaming Enforcement licenses WSOP NJ
The platform offers a diverse range of poker games and tournaments
WSOP NJ provides a mobile app for iOS and Android devices
Players can participate in exclusive promotions and qualify for prestigious live WSOP events
Cons
WSOP NJ is only available to players physically located within New Jersey
The WSOP NJ player pool may be smaller than global online poker platforms
WSOP NJ depends on a stable internet connection for uninterrupted gameplay
100% up to $1000
Screenshots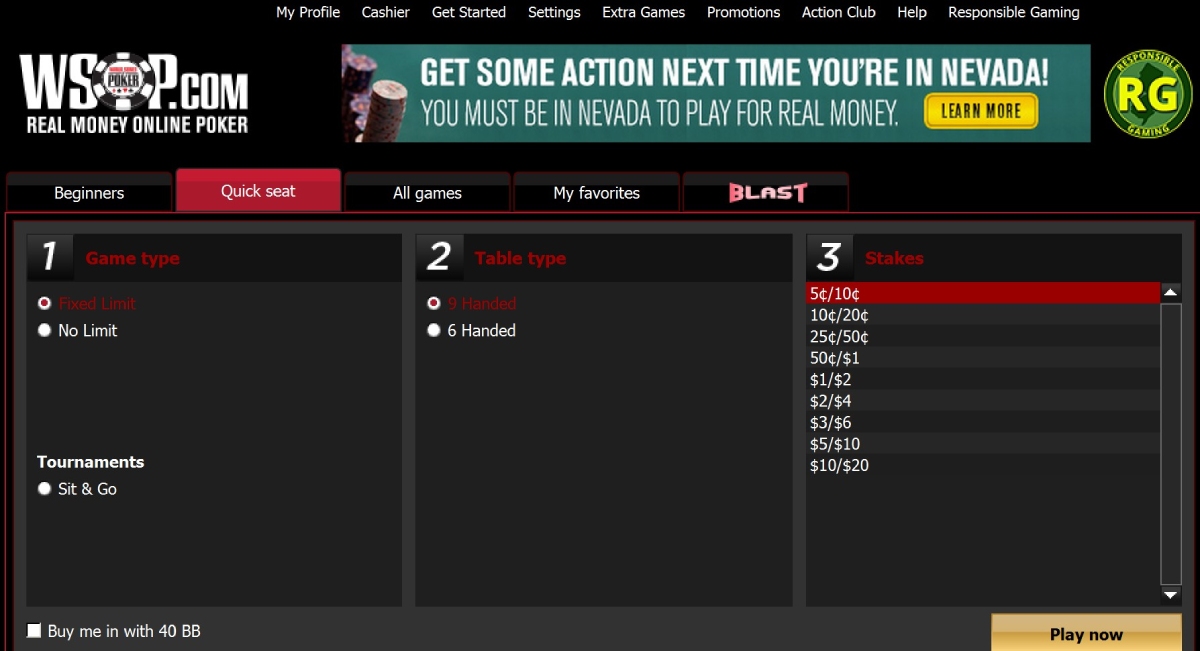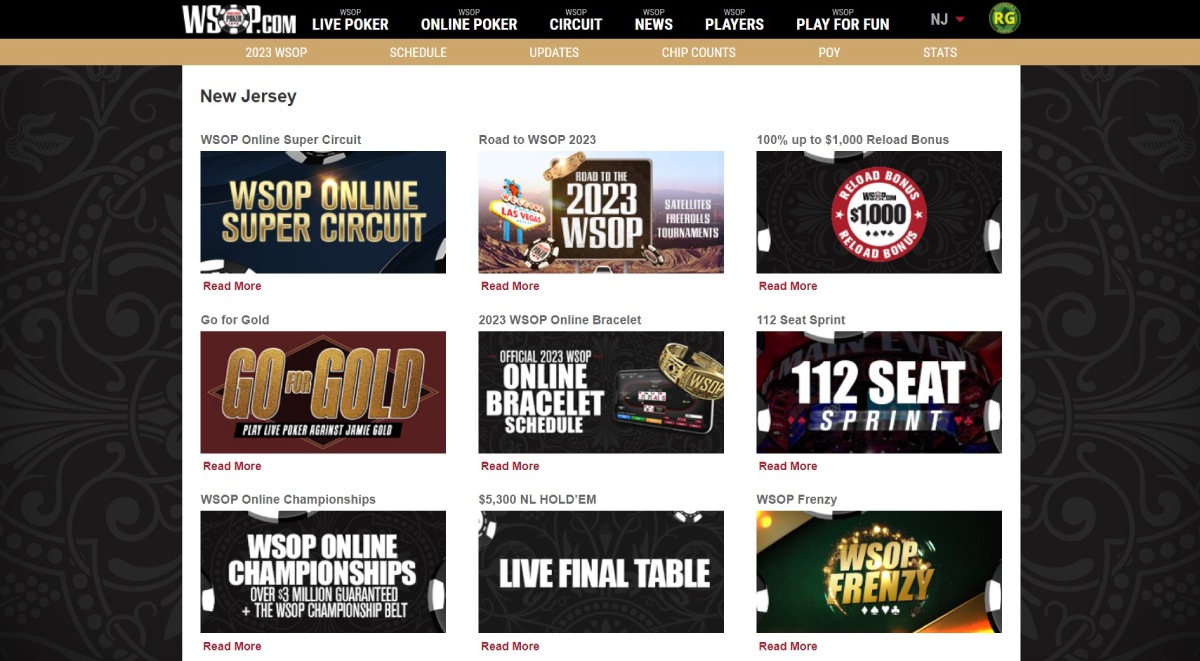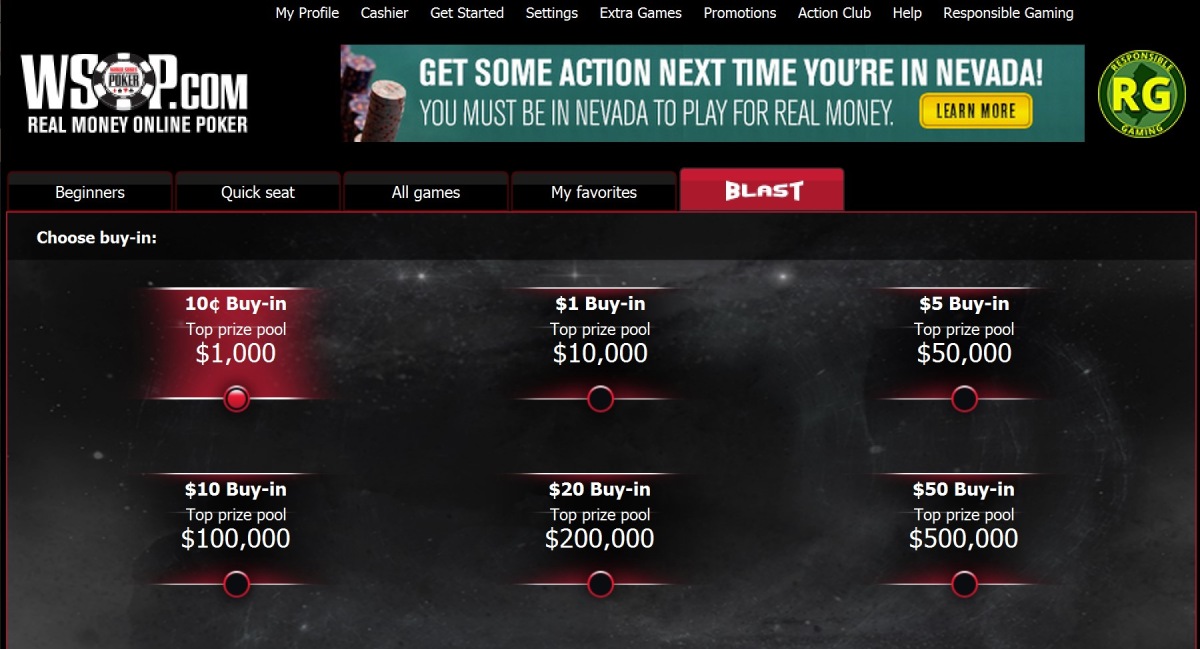 WSOP.com in New Jersey is an online poker platform owned by Caesars Interactive Entertainment. It is based on the World Series of Poker, where it got its idea and name. The website and application hold a reputable gaming license, meaning it can legally operate in New Jersey. There is a vast selection of online poker games and competitive tournaments, including popular variations like Omaha and Texas Hold'em.
It's a great platform where players can compete against each other for real money in a wide range of different games and tournaments. You can also make the most of your bankroll by activating many ongoing promotions. It is a fair and secure platform, and you can find out more below in our WSOP poker review.
WSOP NJ promo code
WSOP online casino NJ frequently offers promo codes for its players to enter before they redeem a match or no deposit bonus. You can find them by going to the 'Promotions' tab for the New Jersey website, and it will offer you information regarding current bonuses and the code you must enter to activate them. For example, there is currently a 100% up to $1,000 reload bonus for ongoing players, and you can redeem it when you enter the WSOP NJ bonus code WSOP23R when you make your next deposit.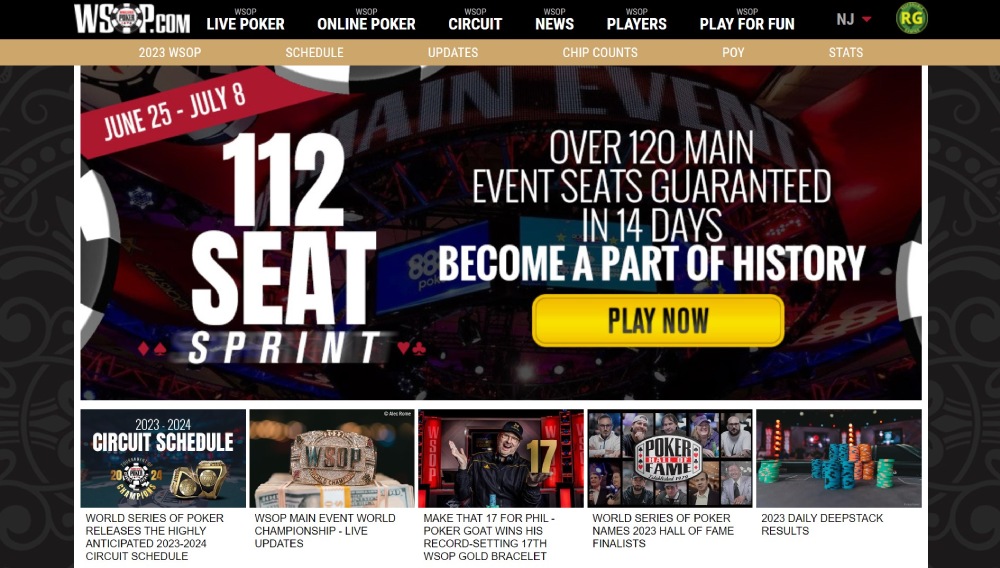 The WSOP NJ welcome bonus
WSOP NJ doesn't just have one welcome bonus but multiple promotions you can take advantage of when you first sign up as a player. First of all, you can receive up to $100 in free play depending on how much you deposit the first time on your account. It works like this:
$10 – $250 deposit = $25 bonus
$251 – $500 deposit = $50 bonus
$501 – $999 deposit = $75 bonus
$1000+ deposit = $100 bonus
There is also the Welcome Week Freerolls available for new players. When you make your first deposit of at least $10, you're automatically offered seven $100 freeroll tickets, which are only available when you first register for an account. You can use these freerolls to play with other new layers every night at 7 pm to see if you can win. The tickets only last seven days, so ensure you make the most out of it.
WSOP NJ promotions for regular users
Not only does WSOP NJ offer a generous welcome offer, but there are some excellent ongoing promotions for existing customers. For example, a 100% up to $1,000 reload bonus is available for under two months when you use the promo code WSOP23R when depositing at least $10. It also involves building up loyalty WSOP points called APPs, and when you earn 100 APPs, you will receive a credit of $10 into your account. It also comes with a 60-day bonus wagering duration.
There are also frequent daily promos, such as when you deposit at least $20 daily, you'll receive 20 reward spins. You must use the code 20SPINS when depositing to redeem this promotion, and you can earn up to 120 reward spins for the whole month.
You may also get involved in a month-long promotion, where you use code MONTH, and each time you play your favorite games, you'll earn APPs. The more APPs you earn, the better the exclusive rewards you receive. For example, you get five reward spins for 10 APPs and a $75 casino bonus for 2000 APPs.
Join the NJ WSOP loyalty program
WSOP.com New Jersey has a dedicated loyalty program called Poker Rewards, where you can earn Action Player Points or APPs. You receive 2 APPs for every $1 you rake, and you can work your way up tiers depending on how many points you receive. However, your points are reset at the beginning of every month.
As you move up the tiers, you can increase the number of APPs you have. For example, when you move from the Bronze to Silver tier and have 200 APPs, you can multiply it by 10 and end up with 2000 points. If you accumulate over 20,000 APPs in the calendar year, you can reach the Champions Club, where you can multiply your points by 16.
Here is the full list of tiers and the multipliers associated with them:
Player – 0 APPs, 0 multipliers
Bronze – 200 APPs, 4x multiplier
Silver: 750 APPs, 10x multiplier
Elite: 1,500 APPs, 12.5x multiplier
Champions Club: 20,000 annual APPs, 16x multiplier
For every 100 points you have, you can convert it into $1 cash for the WSOP poker NJ tables.
WSOP NJ poker software
The software at WSOP NJ is better than most other licensed poker sites in New Jersey since it is a downloadable poker app where you can play online poker games and tournaments on your desktop. The software is provided by Caesars Interactive Entertainment and has been designed for New Jersey players.
The application for WSOP.com has been designed with a user-friendly interface, which means players in NJ can easily find what they're looking for. The software boasts a wide range of features, such as different poker variants, promotions, and tournaments.
You can also make the most out of the software by personalizing your account, such as adjusting the table layout, avatar appearance, and other gaming preferences. You can also make the most out of hand histories, player notes, and real-time statistics.
WSOP website poker games
WSOP.com offers a diverse selection of real money games with a great house edge to cater to different player preferences:
Texas Hold'em
This is the most popular form of video poker, and players need to try and get the best handout of their hole and community cards. Some titles you can find include No-Limit Texas Hold'em and Turbo Texas Hold'em.

Omaha
Omaha is a variation of Texas Hold'em, however, the only difference is players are handed four-hole cards instead of two. They must also use two of them alongside three community cards. Omaha Hi-Lo and Omaha Sit-and-Go are among the most popular titles.

Sit-and-Go Tournaments
A sit-and-go tournament involves a table with a pre-set number of poker players, which automatically starts once someone is in every seat. They're usually played on Double or Nothing and Knockout Poker.

Multi-Table Tournaments (MTTs)
These poker tournaments involve multiple tables and typically have scheduled start times. Players compete until only one player remains—the winner. The $100k weekly Sunday tournament is one of the best options on the site.
Cash Games
Also known as ring games, these are ongoing games where players can join and leave at any time, playing with real money. There's a great choice of Hold'Em, Stud, and Omaha variants available.

How to sign up for a WSOP account
To sign up for a WSOP.com account, follow these steps:
Head to the WSOP website and ensure you're on the version for New Jersey players.
Download the New Jersey Poker client onto your Windows or Apple device.
Once installed, select the registration option and start filling out your personal details, such as your name, email address, username, and password.
Double-check that you've entered all of your information correctly, and then finalize the registration process by agreeing to the terms and conditions and submitting your form.
A verification link will be sent to your email address. Click on the link to verify your account.
After verifying your account, you can log in to WSOP.com using your username and password and enjoy online poker rooms and tournaments.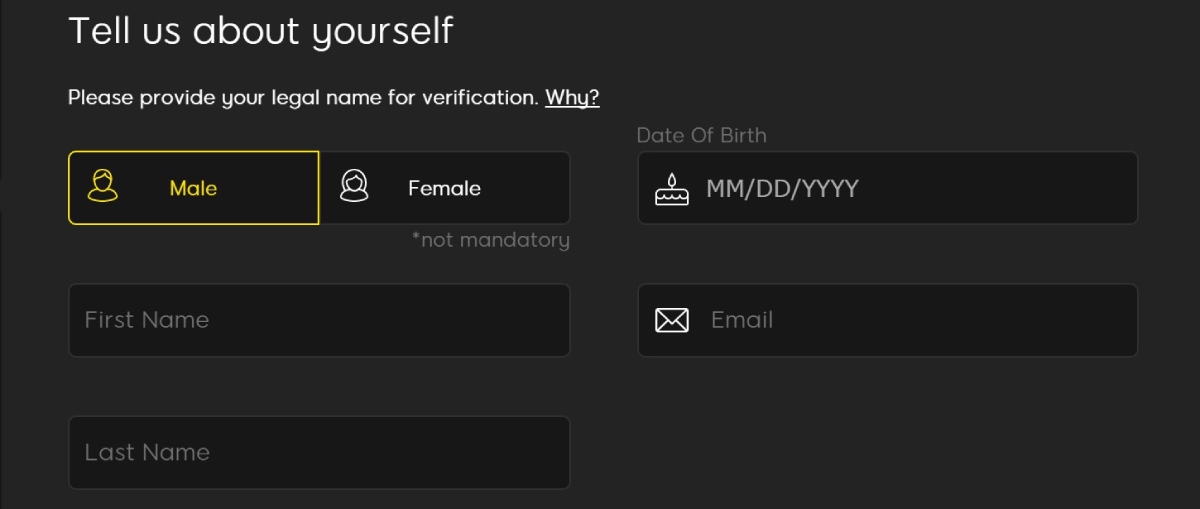 WSOP NJ app
Unlike other online casinos and NJ online poker sites, you can't play directly on the WSOP website. Instead, you must download the application onto your Windows or Apple device. The platform is designed and provided by Caesars Interactive Entertainment and provides you with full access to the platform's poker games and tournaments.
Mobile features
Once you've downloaded and installed the WSOP NJ app on your chosen device, you can choose from the gaming library, including titles such as Texas Hold'em, Omaha, and Seven-Card Stud. You will receive all the same features and seamless online poker experience as other quality casinos. There are also several tournaments, such as sit-and-go and multi-table, which load effortlessly through the NJ apps interface.
Some bespoke features are also available to enhance your gameplay. This includes things like hand histories, real-time statistics, and player notes. You can also make the most of ongoing promotions and satellite tournaments that help you qualify for live events. For these reasons, it's considered one of the best NJ poker apps.
How to download the app
You can download the WSOP app with ease by following these steps:
Go to the WSOP NJ website. The download is available on the dedicated page for iOS and Android.
Install the application on your device.
Log into your WSOP NJ account or register.
Deposit money into your account and start playing!
WSOP New Jersey deposits and withdrawals
To deposit and withdraw money at WSOP NJ, follow these steps:
Depositing Money
Sign in to your account at WSOP.com.
Find the banking section, and choose the "Deposit" option.
Select the payment method to deposit money, including credit/debit card, bank transfer, e-wallet, PayNearMe, or wire transfer.
Enter all relevant information surrounding your deposit, such as your bank details and how much you want to deposit into your account.
Ensure all your details are correct before confirming the deposit.
Your funds should automatically be added to your WSOP NJ account, and you are ready to start playing poker!
Withdrawing Money
Log in to your WSOP NJ account.
Go to the banking section and select the "Withdrawal" option.
Look through the payment options and choose how you wish to receive your winnings, which could be anything from an e-wallet to a bank transfer.
Enter how much money you want to cash out and any other information the website requires.
You may have to go through a KYC process to verify your identity if you haven't already.
Confirm that all the details for your withdrawal are correct.
When the platform approves your withdrawal, it can take from a couple of hours to several business days to hit your account, depending on your chosen banking option.
WSOP website customer support
Although WSOP NJ provides a seamless platform for people to play online poker, like most other online casinos and sites for online gambling in New Jersey, there might still be occasional problems. That's why it's great the website has customer support options via email and telephone, where you can contact the team with any inquiries and issues you might have. The experts are knowledgeable in various topics and can help with anything from answering questions to addressing technical difficulties.
If you want quick answers and don't wish to contact customer support and wait for a response, then WSOP NJ has a comprehensive FAQ section you can check out. It has answers to common problems and inquiries.
WSOP.com NJ poker online and land-based networks
WSOP.com NJ operates as an online poker platform within the state of New Jersey, providing players with the opportunity to enjoy online poker games and tournaments. While WSOP.com NJ primarily focuses on online gameplay, it is affiliated with the World Series of Poker brand, renowned for its prestigious live poker events.
Regarding the land-based network, WSOP.com NJ is connected to the World Series of Poker events held in various locations worldwide. Players can qualify for live WSOP events through online satellite tournaments hosted on the platform. Winning players can earn seats at live WSOP tournaments, allowing them to compete for huge prize pools and coveted WSOP bracelets.
It's important to note that the land-based network of WSOP events extends beyond New Jersey, encompassing locations such as Las Vegas, Europe, and other parts of the world. However, the online platform of WSOP.com NJ specifically caters to players physically located within New Jersey, adhering to the regulatory framework and licensing requirements of New Jersey's online gaming jurisdiction.
FAQ
What tournament series can I find on WSOP NJ?

WSOP.com NJ offers tournament series such as online bracelet events, online circuit events, satellite tournaments, and seasonal series like Spring, Summer, and Winter. These series allow players to compete for WSOP bracelets and circuit rings and qualify for live WSOP events.
How can I complete transactions?

To deposit at WSOP NJ, log in to your account, visit the Cashier section, choose your preferred deposit method (credit/debit card, e-wallet, online bank transfer, PayNearMe, or bank wire), enter the deposit amount, and follow the instructions. For withdrawals, follow a similar process in the Withdraw section.
Are there cash games offered at NJ WSOP?

WSOP NJ offers cash games where players can participate in various poker variants like Texas Hold'em, Omaha, and Seven-Card Stud with real money.
WSOP vs. 888poker - which is better?

The choice between WSOP and 888casino depends on individual preferences. WSOP is primarily focused on online poker, offering access to WSOP events. 888casino offers a broader range of casino games from Dragonfish.
Do I have to have a New Jersey residency to have a WSOP account?

No, you need not be a New Jersey resident to play at WSOP.com. However, due to the geolocation restrictions, you must be physically located in New Jersey while playing on the platform.
Written by: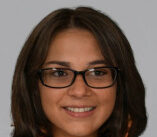 Article by
Joyce
Tyler
Joyce is an experienced content creator and iGaming industry veteran. She has more than 8 years of experience in the field, and for the last 3 years, she's been focused on creating content for the online casino industry. Joyce is also an aspiring game reviewer, with a particular passion for classic table games like blackjack and baccarat. She likes finding new ways to make these games interesting and fun for our readers.